TRIM TAB SYSTEMS
Control stability and enhance maneuverability in all conditions with Twin Disc boat trim tabs. Combine corrosion-resistant stainless steel systems or aluminum systems with four hydraulic kits and an array of accessories to meet your specific application.
Series MY3000, MY4000 and MY5000 are available in simple tab (single plate) type for smaller boats and lower loads, and the reinforced tab (reinforced plate) for bigger applications. MY3000 series tabs feature a welded connection cylinder.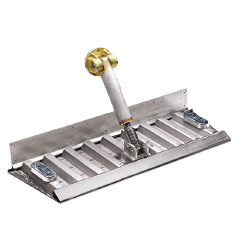 Benefits and Features
Better performance
Stern lifting and better balance
Faster planing and more inline power
Listing correction and reduced yawing and wandering
Increased safety
Improved visibility
Greater maneuverability at low speeds
Improved efficiency
Better engine performance
Reduced fuel consumption
Stay on plane even at slower speeds
Publications
Locate SALES AND SERVICE
AROUND THE GLOBE
Trained experts and original parts available from 250 distributor sales and service locations in 83 countries.
BACK TO FILTERS COLLAPSE RESULTS
HAVE A NEED FOR OUR PRODUCTS AND SERVICES?
PUT THE POWER OF TWIN DISC TO WORK FOR YOU
Looking for a power transmission technology solution for your specific application? Twin Disc is more than ready to put horsepower to work for you.
I'D LIKE TO CONNECT