SEE HOW OUR HYBRID SYSTEMS SOLVED A PROBLEM FOR THE
NIAGARA FALLS MAID OF THE MIST
Go Electric with our
Pleasure Craft
Enjoy intuitive control and precise maneuvering with easy-to-use pleasure boat transmissions and state-of-the-art electronic controls. Choose Twin Disc for smooth shifting, instant engagement, superior steering and station keeping. Our full propulsion solutions fit small river craft to large motor yachts—with full after-sale support.
Go Electric with our
Patrol Craft
For high-speed interception, military coastal defense or harbor patrol, nations around the world specify Twin Disc propulsion packages. Count on instant response, custom capabilities and unparalleled applications know-how, backed by full logistics support.
Go Electric with our
Commercial Craft
Stand up to severe environments and positioning challenges with the transmissions and controls that commercial marine operators have trusted for nearly a century. Twin Disc brings you robust capabilities rooted in unmatched expertise, backed by our respected Global Service Network.
Go Electric with our
Fast Commercial Craft
Handle harsh environments, high load factors and long durations with Twin Disc propulsion packages. Rugged transmissions and controls deliver uncompromising performance, building on proven expertise and backed by our renowned Global Support Network.
Go Electric with our
Electric and Hybrid Systems
Our innovative hybrid and electric systems support greener power transmission while delivering the reliability you expect from Twin Disc. Explore some of Twin Disc's hybrid and electrification options, then contact our team of experts to learn about the endless custom solutions available to create the optimal system. With more than a hundred years of experience in the design of innovative power transmission products, Twin Disc understands your needs and delivers the solutions that earn your confidence.
LOOKING FOR THE RIGHT ELECTRIC & HYBRID SOLUTION FOR YOU?
GET TO KNOW YOUR OPTIONS
Eliminate the main diesel engine and its maintenance costs, and cut fuel costs and emissions. Configurable power-dense energy storage systems efficiently provide the energy needed to power the application.
Electric motors replace the traditional main diesel engines, drawing electric power from onboard gensets, or an energy storage system in combination with gensets.
Pair the diesel engine with an electric motor. This configuration takes advantage of both, allowing for diesel-only, electric-only, peak shaving, and power boost operation.
Where does ELECTRIFICATION
fit in your future?
With so many different electric and electric solutions, we understand how taking the first step can seem daunting. Allow us to help by filling out our contact form and take the first step in a custom electric and hybrid solution for your business.
Connect me with an expert
FIND WHAT YOU NEED WITH OUR
GO ELECTRIC PRODUCT GUIDE
Whether diesel power, full electric, or a hybrid system that takes advantage of both, download the Twin Disc Go Electric brochure to learn more about how we can deliver the solutions that best fit your specific application.
View PDF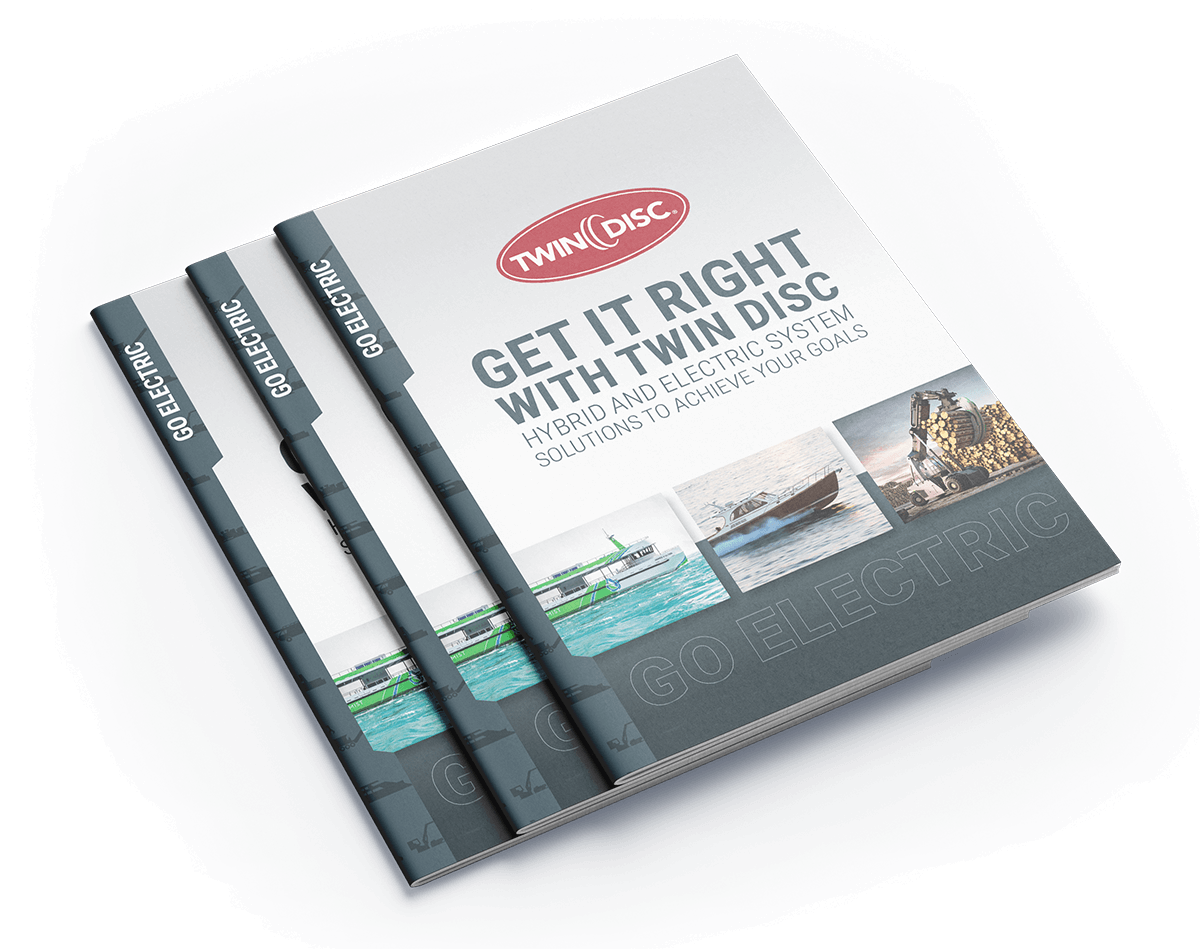 LEARN MORE WITH CUSTOMER
CASE STUDIES
Our electric and hybrid systems solve various nuanced problems for customers. See how Twin Disc is increasing efficiency and creating new ways for our customers to advance their businesses.
View All
Locate SALES AND SERVICE
AROUND THE GLOBE
Trained experts and original parts available from 250 distributor sales and service locations in 83 countries.
BACK TO FILTERS COLLAPSE RESULTS
Need help finding the right system?
Put us to work for you
Twin Disc supports you with complete hybrid systems as well as specific components. Our specialists work with your technical experts to determine the optimal configuration and components. Talk to us today about moving forward to a better system, and a better bottom line.
CONNECT WITH AN EXPERT