HYDRAULIC TORQUE CONVERTERS
Let Twin Disc torque converters help your engines operate in the most efficient speed range, producing rated horsepower regardless of load demand. By transmitting torque through fluid mass in motion, Twin Disc converters eliminate mechanical connections and reduce or eliminate the need for shifting, clutching and declutching.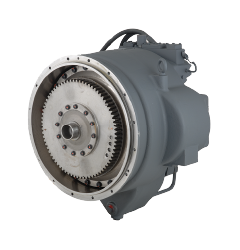 Description
Twin Disc custom solutions draw on extensive applications expertise and a wide array of single-stage stationary and rotating converters, three-stage converters, and numerous types, sizes, capacities, and input/output combinations:
Sumpless Single-Stage Converters with PTO Drives
Single-Stage-Rotating Housing
"Stripped" Units for OEM In-line Design
Twin Disc Single-Stage Torque Converter Renewal Parts Kits
Industrial Single-Stage Torque Converters – Stationary Housing
Type Four Hydraulic Torque Converters
Locate SALES AND SERVICE
AROUND THE GLOBE
Trained experts and original parts available from 250 distributor sales and service locations in 83 countries.
BACK TO FILTERS COLLAPSE RESULTS
HAVE A NEED FOR OUR PRODUCTS AND SERVICES?
PUT THE POWER OF TWIN DISC TO WORK FOR YOU
Looking for a power transmission technology solution for your specific application? Twin Disc is more than ready to put horsepower to work for you.
I'D LIKE TO CONNECT