Coming in Hot: How Twin Disc Helps Protect Lives at Major Airports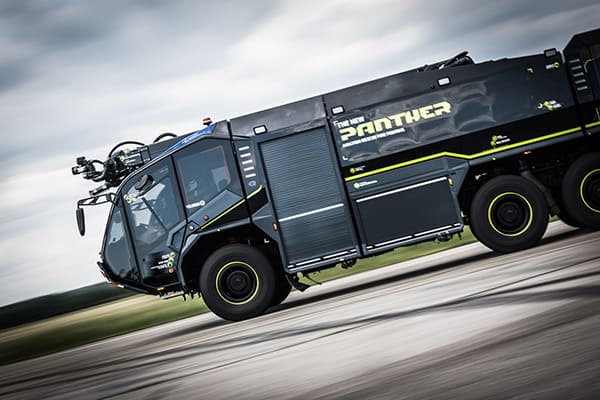 Rosenbauer is the world's largest manufacturer of firefighting technology, providing Panther Aircraft Rescue and Firefighting (ARFF) vehicles to some of the largest airports in the nation. A longstanding partnership with Twin Disc helps it build equipment capable of responding to most challenging emergency situations.
Changing Emission Requirements
When it came time to update the Panther to meet new environmental standards, the company began reworking the engine and emission system design for the vehicles. Because of the requirements of the new emission system, Rosenbauer decided to equip the Panthers with 750 HP Volvo D15 Euro 6 engines. Previously, the Panther vehicles incorporated Twin Disc TD61-1179 six- speed transmissions, but the higher torque of the new engines required the development of a new eight-speed transmission.
For two years, Twin Disc engineers worked with Rosenbauer to develop the gearbox and the control system for a new transmission that could accommodate the more powerful, higher torque engines. The Panthers are now equipped with Twin Disc TAD81-4001 eight-speed transmissions, 8MLW-1758-1 17″ torque converters, and TDEC-500 electronic control systems.
Demanding Performance Requirements
These awesome, heavy-duty vehicles can carry 3,000 gallons of water, 400 gallons of foam, and 500 pounds of dry chemicals. The 82,000-pound vehicles must be able to accelerate from 0 to 50 mph in less than 35 seconds and have a top speed of 75 miles per hour in order to chase airplanes down the runway in emergencies. The fire pumps are rated at 2,000 gallons per minute.
In addition, Rosenbauer developed an ultra-high-pressure fire pump for the vehicles at the request of the U.S. Air Force. This required changes to the power takeoff (PTO) clutch used in the truck to drive the higher horsepower pumps without losing any of the performance capacity.
The TAD81-4001 eight-speed transmission meets all of Rosenbauer's performance and acceleration requirements for the Panther vehicle. For more information on how Twin Disc can create custom transmission solutions for any manufacturing, industrial or marine application, contact us today.
Want to learn more about how Twin Disc's custom engineering solutions helped Rosenbauer meet the demanding requirements of modern firefighting technology? Click here to read the full case study.
Back to News