ADVANCED MARINE ELECTRONIC PROPULSION CONTROL SYSTEM
EC600PC
With the controller prewired to your QuickShift® transmission, the EC600PC is the simplest control system to install, eliminating the need for remote mounting, extra wiring and labor. Simply add a control head/station and you have a complete system to control your engine and transmission.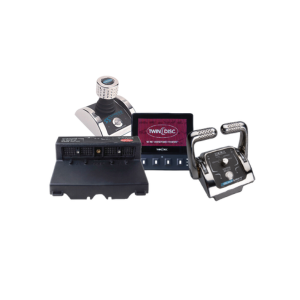 FEATURES
EJS®and EPS ready
Dynamic positioning (DP) integration ready
Independent CAN station busses provide maximum redundancy and reliability
Additional isolated CAN bus for communication between multiple EC600PCs
Dual power inputs
Computer-based setup and diagnostics
Minimal manual setup required with interface SmartChip™
Interface for all electronically governed engines
Throttle limit and clutch disable modes
Fault/event logging with expanded data. In addition to faults/events logged in control memory, each transmission has a SmartChipTM which records service, operation and fault data
Shaft brake control interface
Stabilizer disable interface
Station lockout and transfer options
Operates with EC300 digital control heads
RoHS compliant
Suitable for up to six shaft lines and six control stations
Type approvals and unit certification by major marine survey societies is available
APPLICATIONS
Commercial vessels
Military vessels
Pleasure craft
EC600PC PROPULSION CONTROL SPECIFICATIONS
| | |
| --- | --- |
| Operating modes | Cruise/Sync/Express/Troll |
| Operating temperature | -40° to +85°C |
| Nominal operating voltage | 12-24 VDC nominal |
| Communications | SmartChipTM LIN interface, SAE J1939 programming and station data links, SAE J1939 and NMEA 2000 communication protocols |
| Protection Class | IP67 |
Publications
Locate SALES AND SERVICE
AROUND THE GLOBE
Trained experts and original parts available from 250 distributor sales and service locations in 83 countries.
BACK TO FILTERS COLLAPSE RESULTS
HAVE A NEED FOR OUR PRODUCTS AND SERVICES?
PUT THE POWER OF TWIN DISC TO WORK FOR YOU
Looking for a power transmission technology solution for your specific application? Twin Disc is more than ready to put horsepower to work for you.
I'D LIKE TO CONNECT