Feeding the Beast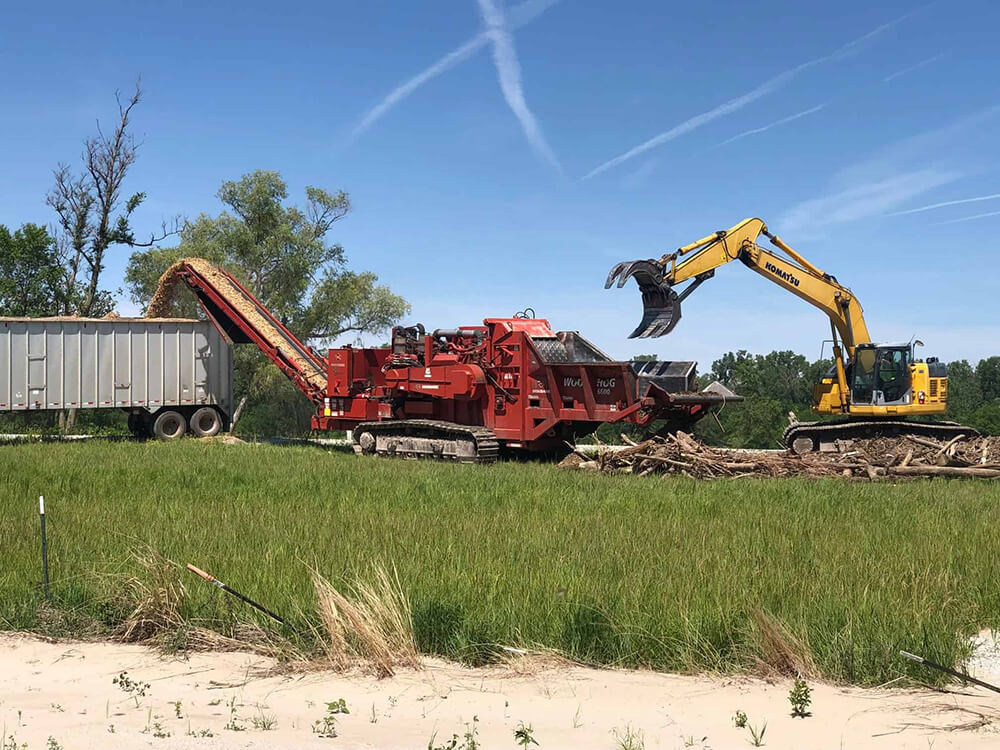 Twin Disc HP 1200 Keeps Morbark Wood Hog Hungry for Work
Mighty machines need mighty transmissions, and Twin Disc's HP1200 wet clutch helps power the Morbark 6600 Wood Hog.
The 6600 Wood Hog is a real monster of a machine — a powerful, aggressive grinder that can quickly turn fallen trees, yard waste, and debris into mulch. The HP1200, a hydraulically-actuated PTO, helps put the Wood Hog's 1,200 HP to good use.
Jason Wilcox, heavy equipment operator for Nebraska-based Hughes Mulch Product, spends his days running a Morbark 6600 Wood Hog to tear through even the largest and toughest materials. He gives the HP1200 rave reviews.
"This is the smoothest clutch I have ever run in my life," he said. "I'm not even kidding. We have four Wood Hogs, and I wish they all had this clutch to be honest. It handles all the horsepower. We've put 2,564 hours on it. It takes it in stride and does not skip a beat."
Extreme Conditions? No Problem.
With the extreme weather that the Great Plains and Midwest have been experiencing, Wilcox has kept busy clearing out storm damage. The HP1200 has held up no matter the job.  "(In 2017), we had tornadoes come through our area" he said. "We were in the middle of Springfield, Nebraska, with that grinder, grinding away with it, and it whipped the work. I can shred 60-foot-tall trees with the Morbark, and it doesn't miss a thing."
The HP1200 keeps the Wood Hog working under even the most challenging circumstances, Wilson said. "I was on a 7-acre clearing job, and, unfortunately, I had to run a lot of dirt and foreign material through it. It helps that this clutch is able to withstand the stress of operating the Morbark under those conditions."
Built for Reliability
Designed for performance and reliability under the harshest of circumstances, the Twin Disc HP1200 requires minimal maintenance.
HP 1200 features include:
Hydraulically actuated and self-adjusting wet clutch
Suitable for in-line and side-load applications
Advanced control system for smooth engagement
Remote actuation via J1939 or switch input
High side load capability
Maximum power rating 1,243 HP at 1,800 RPM
Two towers with two pump pads each
400 HP maximum capacity per tower
550 HP maximum capacity for both towers
"In our industry, it seems like you're always working on something," Wilcox said. "With this clutch, it's been one less thing to worry about. Twin Disc is a very, very great company to work with. Those guys are awesome."
If you are looking for an industrial transmission that can stand up to rough use and extreme conditions, Twin Disc has options for you. Contact us today to learn more about our industrial transmission products and solutions.
Back to News