Maid Of The Mist Goes Electric With Twin Disc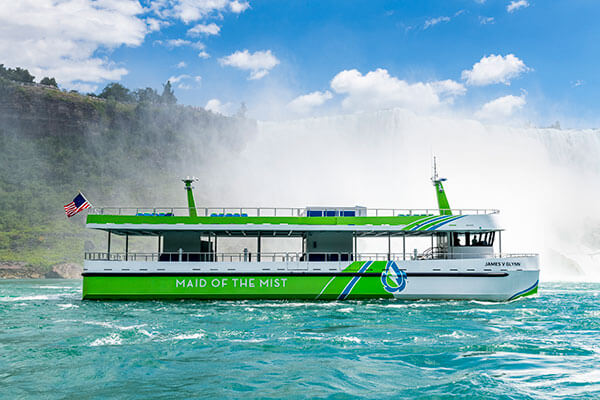 Veth VL-200 L-Drives Boost Efficiency, Maneuverability
The ferries that carry tourists around Niagara Falls have integrated Twin Disc technology to be-come the first zero-emission, all-electric passenger vessels in North America.
Two Maid of the Mist catamarans each feature two VL-200 L-Drives from Veth Propulsion by Twin Disc. These high-efficiency thrusters are powered by hydroelectric energy stored in lithium-ion batteries and sourced from Niagara Falls itself.
"It's a great sustainability statement," Christopher M. Glynn, president, Maid of the Mist Corp.
When the company decided to replace its two aging diesel vessels with electric boats, Glynn says it was natural to include Twin Disc components.
"We had a longtime relationship, using Twin Disc parts in our diesel engines," he says. "Then we learned about the Veth L-Drives—reliable, with low vibration—a quality product."
The electric boats launched in October 2020, following a lengthy safety review by the U.S. Coast Guard.
"Veth was super helpful as we were going through the approval process for the electrical pack-age," Glynn says. "They didn't just say, 'Here's what we have. Good luck.' They were very interested in making this work."
The Veth L-Drives enable the ferries to move upriver at a good pace without diesel fumes, view-obstructing exhaust stacks, or any noise to compete with the falls. "And everyone has been impressed by the lack of vibration—even the Coast Guard," Glynn says.
Maneuverability is outstanding, using the L-Drives' 360-degree thrust to give tourists panoramic views. "We can turn in our own length, which is very helpful coming out of Horseshoe Falls," Glynn says. He adds that crew can "walk" the vessels laterally into the dock. "It's more delicate than with a traditional mono-hull—and it saves the paint!"
The vessels take about seven minutes to charge between trips, as passengers disembark and board. Each Maid of the Mist ferry is rated for 600 passengers, and together the two boats carry about 1.6 million people a year.
The compact design of the L-Drives helps maximize available space on the ferries. While Glynn says the decision to go electric was based on protecting the Niagara River rather than saving fuel, the L-Drives do offer higher efficiency, robust reliability, and a long service life with minimal maintenance.
Glynn says Twin Disc's responsiveness was important in taking the Maid of the Mist into a new era. "The technology has been around for a period of time, but not bundled together like we're doing," he said. "You want to do your research up front and use good, established companies."
About Twin Disc, Inc.
Twin Disc, Inc. designs, manufactures and sells marine and heavy-duty off-highway power transmission equipment. Products offered include marine transmissions, azimuth drives, surface drives, propellers, and boat management systems, as well as power-shift transmissions, hydraulic torque converters, power take-offs, industrial clutches, and control systems. The Company sells its products to customers primarily in the pleasure craft, commercial and military marine markets, as well as in the energy and natural resources, government, and industrial mar-kets. The Company's worldwide sales to both domestic and foreign customers are transacted through a direct sales force and a distributor network. For more information, please visit www.twindisc.com.
###
Back to News