Sanmar Chooses Twin Disc For Six Vessels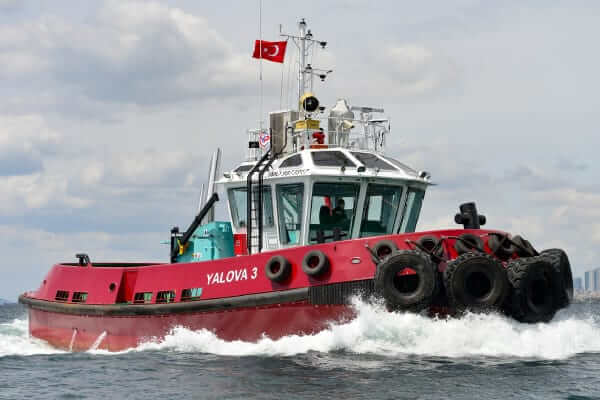 One of the world's leading tugboat builders has expanded its portfolio with vessels featuring Twin Disc transmissions—gaining excellent maneuverability as well as the support of a single-source provider.
Sanmar Shipyards, Turkey's oldest private-sector tugboat firm, has more than 200 tug and workboats currently in service worldwide. The firm sought to add a new vessel type designed for high performance at a competitive price. Robert Allan Ltd. designed the Bozçay class of compact tugs, emphasizing maneuverability, stability and reliability. Working with AMAT Engineering, Sanmar selected Twin Disc to provide transmission and propulsion control systems for six vessels.
"We choose the best quality for our vessels and know the manufacturers well," says Hakan Tunç Sanmar naval architect and marine engineer.
Sanmar introduced the Bozçay RApport 1900SX, a steel twin screw harbor tug with an increased beam for better stability. Two cabins in the forecastle accommodate a crew of four, with a three-cabin arrangement also available. The vessel stands up to general harbor and coastal towing duties with the Twin Disc MGX-5321DC transmission, gaining enhanced maneuverability with EC300 electronic propulsion control.
Smooth shifting, smooth connections
Tunç admires the QuickShift controls design as well as its performance. "The system runs swiftly from astern to ahead, from idle to full throttle, living up to the name 'QuickShift,'" he says.
He adds that the project flowed more smoothly by having Twin Disc supply the complete package. "Our shipyard and the end user deal with one company for startup, commissioning and service after the sale—eliminating the risk of interface issues."
The first vessel underwent sea trials in April 2020, with extra precautions in light of the coronavirus pandemic. "Having local support from AMAT Engineering and Twin Disc, from ordering to commissioning, is fantastic during this time of global travel restrictions," Tunç says. "We appreciated the project handling and on-time delivery."
Back to News