Twin Disc Helps Make a Clean Sweep of Airport Runways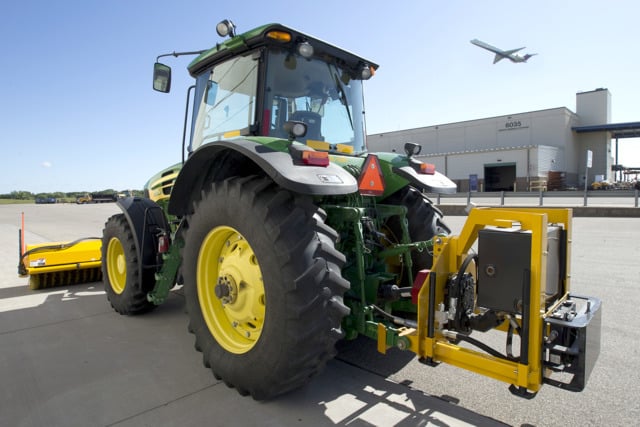 Do you want to build a snowman?
If you work for a major metropolitan airport, probably not. Dealing with snow is a major operational expense for airports. Winter weather is often the culprit in several of the 10 most weather-delayed major airports. It can take massive efforts to keep snow from disrupting operations, according to Wired Magazine:
Everything at an airport slows down when it snows. Runways where planes are normally taking off every 45 seconds now can only handle one every 90 seconds. Baggage handlers must move slower because of slippery conditions; planes must be actively deiced before taking off; and runways need to be shut down periodically so armies of trucks with giant plows and brushes can get them down to bare pavement.
Snow Solutions
Over in Minnesota, the Minneapolis-St. Paul International Airport relies on snow removal technology powered by Twin Disc pump drives to keep things running smoothly. To help keep the runways clear, the airport relies on a tractor-mounted runway sweeper broom manufactured by Wisconsin-based M-B Companies.
The average amount of snowfall in the Twin Cities area is 45.3 inches per year. Because of this, the airport required a sweeper capable of removing even the heaviest snowfall quickly and efficiently to keep air traffic moving. The airport uses M-B Companies' 3600-TRT Bidirectional Tractor-Mounted Runway Broom, which operates at 347 rpm with 1,655 foot-pounds of torque at 5,075 psi maximum working pressure.
Pump Driver Power
The power of the sweeper requires a pump drive with plenty of performance, able to use the rig's full horsepower. M-B Companies chose to utilize the state-of-the-art AM110 Pump Drive from Twin Disc in the 3600-TRT. The drive had the quality build, compact design and power to let the new snow sweeper do more with less, even in harsh, wintery conditions. The hydraulic machinery of the sweeper makes it five times more powerful than other brooms of its kind.
To learn more about pump drives and other industrial products, visit www.twindisc.com.
Back to News