Twin Disc Marine Transmission Drives Marseille Fire-Fighting Vessel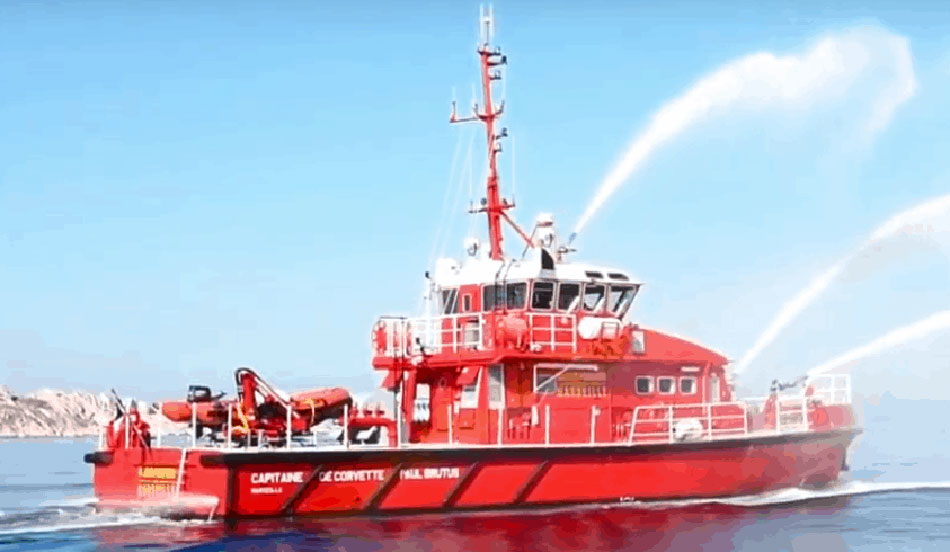 Captaine de Corvette Paul Brutus is a light fireboat, commissioned by the Marseille Fire Marshal Battalion (BMPM), named in the memory of a firefighter who died in the line of duty. Designed to fight ship fires in the harbor of Marseille, France, the vessel can also supply fire-fighting equipment to combat blazes on wharves or beaches.
Performance Requirements
To meet the performance requirements of the BMPM, the Captaine de Corvette Paul Brutus required a transmission capable of allowing extreme maneuverability while operating a high-powered FIFI Maritime Fire Pump.
The vessel is fitted with a Twin Disc MGX-5321DC marine transmission. It allows highly accurate positioning and slow-speed maneuverability while splitting main engine power to operate the FiFi pump.
The Captain de Corvette Paul Brutus can be readied to sail within five minutes and cruise at a maximum speed of 12 knots. It is also equipped with 70 kW hydraulic bow thruster to improve its maneuverability.
Transmission Advantages
In its standard configuration, the MGX-5321DC offers features including:
Vertical offset, nodular iron housing
Electric GP-valve with manual override
EC050 Profile module – interface for engagement signals
Mounted oil cooler for raw water cooling
The MGX-5321DC provides sufficient power to the vessel's FIFI Maritime Fire Pump to drive three mixed water and foam guns. Two are rated to spray at 8,000 liters per minute. The other can spray at a rate of 3,000 liters per minute. These water guns can be powered with no effect on ship performance or maneuverability.
To learn more about MGX-5321DC and other marine transmissions, visit www.twindisc.com.
Back to News