Twin Disc and the 'Queen of the North Atlantic'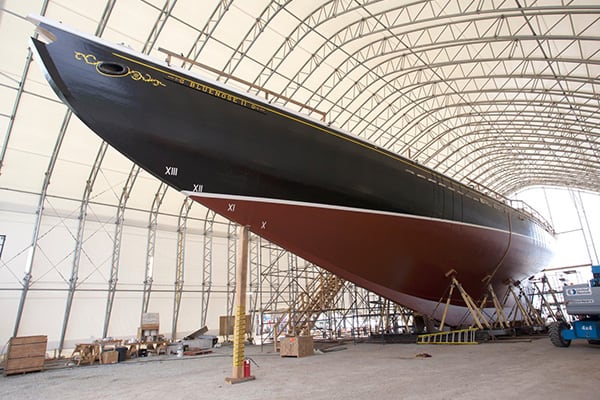 With our reputation for putting horsepower to work, you might not expect Twin Disc to have taken part in helping a famed sailing vessel take to the high seas again. But our technology has been involved in the story of the "Queen of the North Atlantic" for more than 50 years.
It started with the building of the famed Bluenose, a fishing vessel that dominated racing in the North Atlantic for 17 years after its commission in 1921. It remains a source of pride for the residents of Nova Scotia. An image of the vessel has adorned the Canadian dime since 1937.
All things must end, though, and the original Bluenose wrecked in 1946. That didn't stop the locals of Lunenburg, Nova Scotia, from dreaming of seeing it sail again, an idea inspired by the building of a replica of the HMS Bounty for the movie Mutiny on the Bounty.
In 1963, the dream became a reality when Halifax's Oland Brewery commissioned the building of the Bluenose II as a marketing tool for their Schooner Lager beer.
Twin Disc Horsepower
This is where Twin Disc comes into the picture. Built by Smith & Rhuland Shipyard, the Bluenose II incorporated twin Caterpillar diesel engines, driving through two Twin Disc Model MG-508 Marine Gears.
The story doesn't end there, however. Because of the wear and tear of years of sailing, by the first decade of the 2000s, Bluenose II required a total rebuild. New construction by the Lunenburg Shipyard Alliance began in 2012. Very few elements of the original vessel were reused.
During the rebuild, Montreal-based Marindustrial supplied two Twin Disc MGX-5075SC units, along with a two-station EC300 control system, to provide the necessary performance and handling for the schooner. Transmission sizing, quoting, supply and startup were accomplished by the staff at Marindustrial's Moncton, New Brunswick location.
Sailing Into History
Once again, Bluenose II sails the high seas, serving as Nova Scotia's official sailing ambassador. In closing, we'll turn to the words of the cover story of the fall 1964 issue of Twin Disc's Production Road Magazine, titled "Full Sail Out of the Past," which still ring true:
It must be admitted, however, when the "Bluenose" cuts gracefully through the waters, the hidden diesel engines and dependable Twin Disc Marine Gears are easy to forget. With a full spread of canvas as she stands out to sea, the "Bluenose" is again the undisputed champion of fishing schooners and the symbol of an old tradition of the sea.
Twin Disc takes pride in serving the needs of the marine industry. Learn more about how our marine transmissions, control systems and other solutions can meet your company's needs.
Back to News