Twin Disc Supports Oil and Gas Industries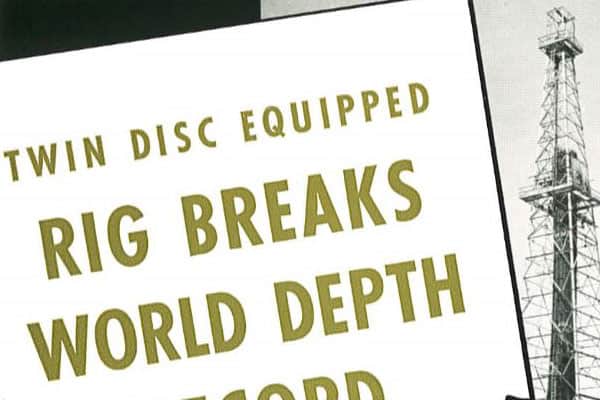 The oil and gas industry helps keep the industrialized world going around, and Twin Disc has a long, rich history of supporting the production of energy resources.
In the 4th edition of the 1953 Twin Disc Production Road magazine, an article was published that announced an oil drilling rig equipped with a Twin Disc three-stage torque converter had broken the then-current oil well depth world record of 20,522 feet. By the time the article was published, the well had reached a depth greater than 21,400 feet, breaking the 4-mile depth mark! In 1953, this was a serious accomplishment for the drilling industry.
To quote Production Road:
"Records like this are encouraging to the entire oil industry. They prove that holes can be made faster and more profitably… by utilizing the unbeatable combination of modern drilling equipment working through the right-type industrial drive."
Since that record-breaking event 65 years ago, there have been many changes in the oil and gas industries. One aspect has endured. Twin Disc remains at the forefront of developing technology to meet the world's energy needs.
Hydraulic Fracturing
In recent decades, as hydraulic fracturing has become a driving force in the development of both domestic and international energy sources, Twin Disc has responded by developing technology that is integral to fracking applications.
When the fracking industry began tapping natural gas reserves in the Marcellus Shale in the Appalachian Basin, it required the use of larger pumps and engines than those used for traditional shallow vertical wells. To accommodate these requirements, Universal Well Inc. used Twin Disc's purpose-built TA90-7500 fracking transmission to upgrade the transmissions in its entire fracking fleet.
Meanwhile, China's natural gas production is expected to double from 2017 levels by 2020. Twin Disc technology is helping power that shift. Its components can be found in applications such as Sichuan BOMCO Special Vehicle Manufacturing Co.'s free-standing, 3,000 hhp skid configuration hydraulic fracturing rig built to withstand excessive vibrations. It incorporates a purpose-built Twin Disc TA90-8703 fracking transmission that integrates a TEC-500 electronic control system.
SJ Petroleum Machinery Co. produces the 2500 Quintaplex Pump Fracturing Truck, built for a wide range of fracturing and acidizing operations. In order to provide the necessary power for fracking operations, the 2500 Quintaplex Pump Fracturing Truck uses the Twin Disc TA90-8501 power-shift transmission to meet all performance requirements.
We Can Help
Twin Disc takes pride in serving the needs of the oil and gas industry. Learn more about how our fracking transmissions, pump drives and torque converters can meet the needs of your energy production application.
Back to News