Twin Disc Tech Powers Hybrid Marine Solution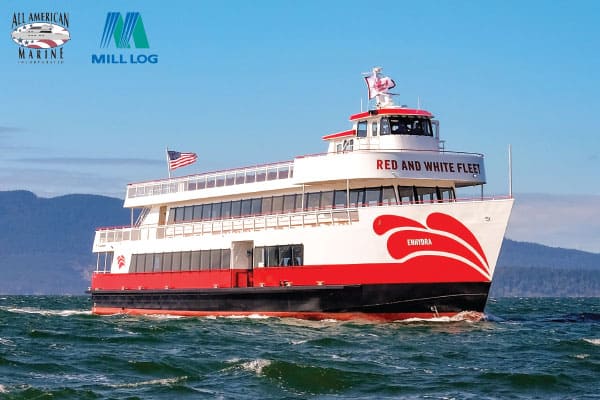 As marine transportation begins to move away from the use of diesel engines, Twin Disc is excited to contribute to the development of hybrid applications. Twin Disc marine transmission technology is used in the 600-passenger Enhydra, the largest hybrid-powered passenger vessel to operate under Coast Guard Subchapter K rules in the United States.
Red and White Fleet, a San Francisco Bay-area sightseeing and charter tour company, commissioned the Enhydra from builder All American Marine, Inc. The company wanted to find a power solution that provided better fuel consumption, quieter operation, and less environmental impact than traditional diesel engines.
Landmark Vessel
The Enhydra is powered through Twin Disc MG-5114SC reduction gears driven by the electric motors for main propulsion. Its BAE Systems HybriDrive propulsion offers parallel hybrid powering of the AC traction motors from generators, lithium-ion batteries, or both. The system includes two generators, mounted to variable speed Cummins QSL9 410-hp diesel engines. The control system solution incorporates Twin Disc EC300 electronic controls.
Part of the challenge of the build required that traditional marine transmissions be integrated with the electric motors. Electric engines differ from their traditional diesel engines in significant aspects. There is no need for a clutch to be engaged when reverse is engaged on an electric motor. After slowing down to 0 rpm, the engine simply begins rotating in the other direction with no shift required.
Changing Technology
Quoted in Professional Mariner, Red & White Fleet owner Tom Escher said he is committed to moving toward a zero-emissions fleet by 2025:
The hybrid technology is the easiest gateway to going full electric because we already have the full electric architecture on board the vessel. We are right on that leading edge of this change in the industry. We weren't the first, but we are the first of this magnitude.
Twin Disc is looking ahead to the next 100 years of marine transmission technology. Read our case study on the Enhydra project or learn more about how our marine technology can be used in many applications.
Back to News